Hello world, this will be my first post on the blog. If you don't know, I am the vegetarian out of the trio lol…Anyways, like our description says, we will be giving our unique takes on all the restaurants and bars we happen to visit. Today, I will be giving my take on:
45 Mercer St
(between Broome St & Grand St)
New York, NY 10013
Neighborhood: SoHo
Menu: http://gallinyc.com/Galli-Dinner-Menu.pdf
I found this place by checking some of my favorite sites. I did a quick search of Thrillist and then cross-referenced it with Yelp and then just did a regular Google search to see what people were saying. I happened to find the page for Galli Restaurant and watched this video of the restaurant owners: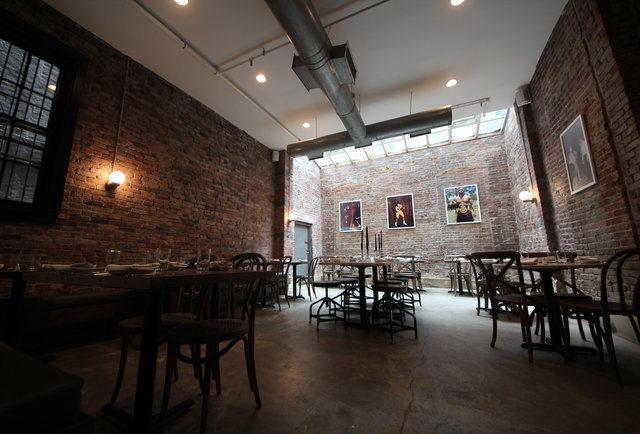 Location
This place is right in the heart of Soho. It is very close to a bunch of trains.
Service 
I wish I would have asked our server what his name was, but he was great. For the sake of this review, we will call him Brad…that seemed like it could have been his name lol. He was very helpful and witty. He had us in stitches with his food humor. He recommended the brownie, which I will speak on further in the food section, but it was STUPENDOUS!
Decor
This won't be a regular for my reviews, but I just wanted to briefly mention the decor. Anyone that knows me knows that I love exposed brick. When I was in the market for a new place, it was on the short list of wants…sadly, I didn't find a place with exposed brick, but this place is loaded with it, as you can see in the picture above. Not sure if you can make it out in the picture or the video, but they really seem to like boxing. On that back wall, they have a poster of Muhammad Ali, Roy Jones Jr. and someone I had no idea who it was. Weird for an Italian restaurant, but I was with it. With all this, I was ready to see if the food was as nice as the decor.
Food
Here is the section that you all been waiting for…unless you just skipped down here. If you did skip down here, make your way back up to take a look at the menu because here are the items that I ordered:
Bruschetta (not on the menu) – $10
Pasta with Vodka Sauce – $16
Brownie with Ice Cream (not on this menu) – $8
After looking at the list of appetizers, I started with a Bruschetta. I know, I know, you don't see it on the menu, but 'Brad' and I saw it. I mentioned it, and with no delay, 'Brad' said, "I'm sure they can make it, no problem. How hard is tomato and bread?" In no time, he was back with my tomato and bread and it was immaculate. The only thing that could have made it better would be some melted provolone cheese on the bread under the tomatoes, balsamic vinegar, and olive oil…man, I almost drooled on my keyboard. I was patting myself on the back for the good call until we got the bread, which I forgot that comes at every Italian restaurant. Felt like an idiot; insert whale face -______-.
Anyways, on to dinner. I went with the Vodka Sauce pasta. Of course I got it without the prosciutto. I went with immaculate for the bruschetta and I am going with stupendous for the main course. I settled on stupendous, but I was going to go into Zane levels of adjectives to describe the pasta. I was going to use words such as vivid, orgasmic, and perpendicular…trust me, I would have made that last one work, I am a math tutor on the side. I wish I would have remembered to take a picture but its my first post, so its ok.
Lastly, I was full-ish…so I wasn't gonna do a dessert but I thought since it was my first post, I might as well. I asked 'Brad' if he had to choose between the Brownie and I think the Panna Cotta…he basically alluded to real men eating Brownie's and I concurred. So I went with the Brownie and OH MY GOD, best brownie I have ever had. Not only was it great, but it came with ice cream #FTDW (For the Double Win). This brownie was so rich and went really well with the ice cream. This was definitely the highlight of the dinner. Next time I am in the area, I will just stop in to get it, no meal, just brownie. It was that good!
(Sorry for the blurry photo, but I took it, so I was definitely going to use it)
Verdict: GO!
*Reminder, please subscribe on the left to our site to get all the new post straight to your inbox. Thanks for reading and hope you return